Mar 20, 2021; St. Louis, Missouri, USA; Iowa State Cyclones wrestler David Carr celebrates after defeating Rider Broncs wrestler Jesse Dellavecchia in the championship match of the 157 weight class during the finals of the NCAA Division I Wrestling Championships at Enterprise Center. Mandatory Credit: Jeff Curry-USA TODAY Sports
Six years ago, David Carr attended his first NCAA Wrestling Championship as a freshman in high school at the Enterprise Center in St. Louis with his father, former Iowa State champion Nate Carr.
David left St. Louis with his eyes set on becoming a national champion, the same way his father did three times as a Cyclone. The same way his now-mentor, Kyven Gadson, did for the Cyclones.
Earlier this month, now six years later, David returned to Enterprise Center. This time, he left as the 157-pound NCAA champion and Iowa State's first national champ since 2015.
"It was just a special thing," David said about the coincidence of winning in St. Louis. "I remember just thinking, 'Wow, God's hand is in this,' like the fact that my first national championship is here, man, that's God. It could be nothing else but God just orchestrating it in a wonderful and beautiful way."
David's father instilled in him the benefits of staying positive. Focusing on training the mind just as much as the physical aspect of being an athlete.
So for six years, David focused every day on trusting and believing in God and his daily rituals.
"I've tried with all my kids to really push them on writing their goals down. So, David has never accomplished something he had not put on paper first. He's been doing it for a while. You know, even when he was losing, I was like, 'Hey, it's gonna be all right.' I remember he lost in seventh grade in the state championships, he got upset and basically, I said, 'It's all right. The guys that are beating you now, if you listen to me, they won't touch you later,' and it's been true since."
The 157-pounder went 20-0 for the 2021 season. He went on to go 5-0 during his NCAA Championship debut and outscored his opponents 40-10. He also ended the season having won 36 straight matches dating back to last season.
Writing on the wall
A key moment for Nate as a father and a coach to David was his senior year of high school. David was preparing to wrestle for his fourth state title. Nate walked into his son's room to find handwritten notes covering his walls.
This is an exercise that Nate had practiced for years, but David added his own spin.
"I'm always about writing things down, right? When someone says something good about you, I learned early on in life to capture it. So if the reporter said something good about me, I would capture it, write it down, laminate it and keep it close to me," Nate said. "So, his senior year I went into his room, and I go in and I kid you not, he had 'Columbus is my favorite place,' 'This is awesome,' 'You can do all things through Christ who strengthens me,' and all of these things hung on his wall and in his hotel rooms. He turned it into a museum."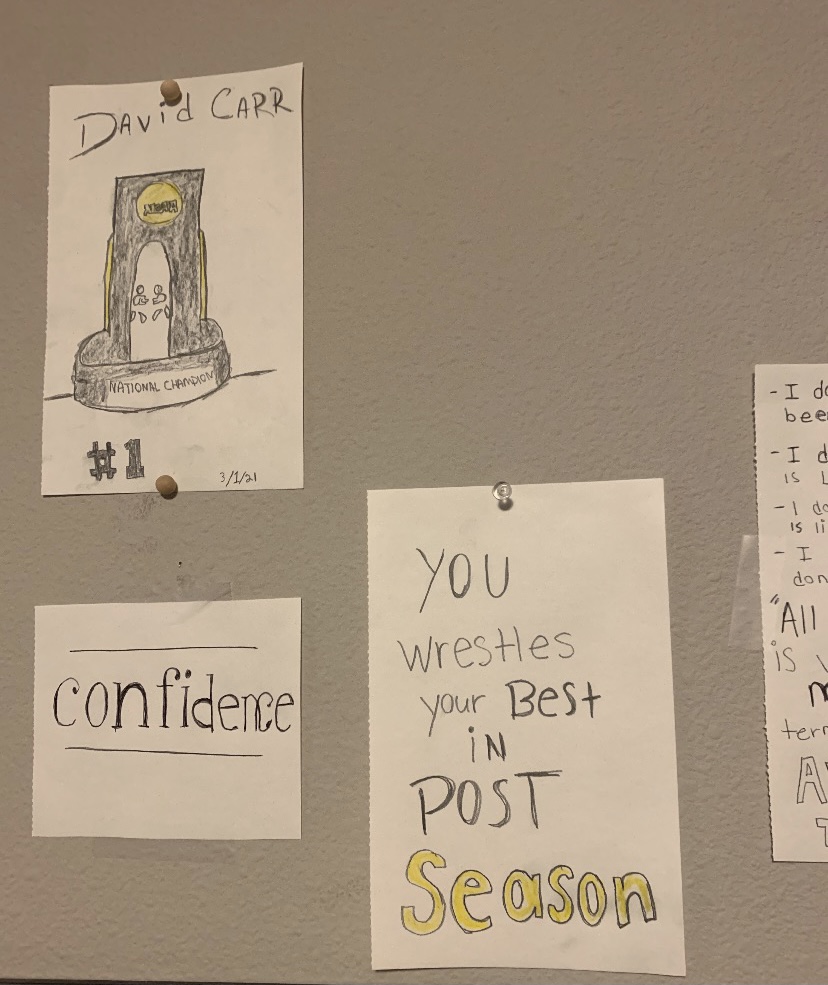 The habit of hanging quotes, Bible verses, positive feedback from coaches, reporters, social media posts from fans, etc., is something he has continued to do even while traveling.
The goal is to replicate the feeling of being in the comfort of his own room while continuing to surround himself with positivity.
This was a habit that felt like a no-brainer to mimic from his father.
"I think it was just kind of a thing where when you have someone who is a champion, someone who has done the things that you want to do, it's kind of like a no-brainer," David said. "I think that everyone's unique. I think just my dad doing those things, that helped me more because he's my dad, you know. But, I was just like, man, it's kind of cool. So, I was able to pick up some things that he did. I noticed that they were helping me and I believed in what he was saying. I believe the things I am writing down. I think that's what has helped me perform at such a high level."
Continuing the legacy
Something that was also a no-brainer for the 157-pounder was deciding to go to Iowa State and continue the family legacy where his father and brother, Nate Jr., both wrestled.
Exactly 40 years after Nate won his final NCAA title, David became the 70th NCAA champion for the Cyclones.
"When I came to Iowa State, I was dreaming of how impossible and how crazy would it be if I could just win one national championship. That was my thought coming to school," Nate said. "Then it became about David. How incredible would it be for him to come to Iowa State and win a national championship, you would say unbelievable. So, it's excellent. I mean, it's great. It's crazy that he would win a championship, you know 40 years later."
The father-son duo became the first in Iowa State history to win national titles. David now has his eyes set on breaking his father's records.
"He is just as excited as I am because it's gonna be something special," David said about deciding to follow his father's legacy at Iowa State. "Breaking his records is bigger than me. It's something amazing for our family. I know my uncle's, my cousin's, my mom and dad, they're all proud of that. Not everybody will be able to do it. I think it's a challenge and things that are difficult, are worth the reward, you know?"
The All-American has three years ahead of him to break records and make even more of a lasting impact on the Cyclone program.
"When I decided to come to Iowa State, I knew I wanted to come here and bring back the program," the redshirt sophomore said.
David became Kevin Dresser's first NCAA Champion in 14-years as a college wrestling coach.
Next up for the national champion is enjoying the high for a little longer but then moving on to his next challenge: Competing at the 2021 Olympic Trials on April 2-3 through the Cyclone Regional Training Center at 74kg.
"I'm really excited," David said. "I think it's going to be a fun tournament. Another chance for me to strap and just have fun."