By Chris Williams, CycloneFanatic.com PublisherFollow Chris on Twitter @ChrisMWilliams
Have you caught your breath?
There's a lot to get to from yesterday's triple-overtime, 44-41 win over the Iowa Hawkeyes.
Let's roll.
GAME BALL
Steele Jantz –Well, duh.
Who else would get it? "Houdini," I mean Jantz, looked like an All-Big 12 quarterback on Saturday. His stat line, 25-of-37 for 279 yards and four touchdowns was lovely. But the best part of Jantz's game on Saturday was the significant improvement he made over the course of seven days.
"I try to not repeat mistakes, I am the type of guy that really learns from mistakes," Jantz said after the game. "I am sure that there were a lot of little mistakes from this game that I will learn from. I hope that I will learn from every single game."
Jantz will and should get a ton of credit for this one. But the junior really should consider taking his offensive line out for wings sometime this week, which brings me to…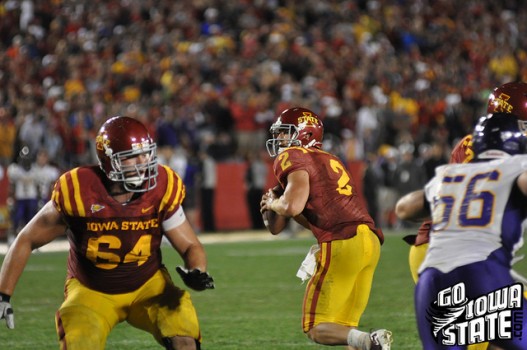 HELMET STICKERS
The offensive line – From a banged up Kelechi Osemele to a redshirt freshman center, Iowa State's offensive line was borderline dominant against the Hawkeyes. The entire group gets helmet stickers and if there were enough to go around, they'd get game balls as well.
Darius Reynolds – Shortly after Saturday's win, I posted this on my Twitter feed.
Dear Darius Reynolds. I was wrong.
"Money," was money against the Hawkeyes. Not only did Darius Reynolds catch six passes for 85 yards and two touchdowns, but his physicality in the blocking game cleared the way for a handful of Shontrelle Johnson runs to the outside.
It was the best game that Reynolds has played in a Cyclone uniform. Props.
Shontrelle Johnson – After a rough week one, "The Rabbit" bounced back to rack up 108 yards while averaging 6.0 yards per carry against the Hawks. Johnson has recorded 135 yards so far this season, which leads the team.
James White – His first two touchdowns as an Iowa State Cyclone couldn't have come in a sweeter setting.
Aaron Horne – Steele Jantz's security blanket had another big game, racking up 94 receiving yards on the day. Through two games, he's Iowa State's leading wide out, with 11 receptions and 163 yards. It's hard to believe that Horne didn't have more options out of junior college.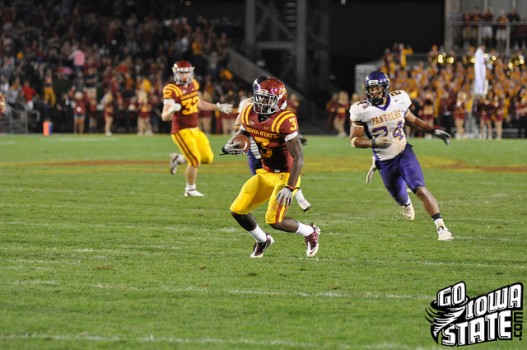 Kirby Van Der Kamp – As crazy as it sounds, Kirby Van Der Kamp's 55-yard punt with just over 12 minutes to play in the second quarter was one of the most important plays in the game. Van Der Kamp pinned the Hawkeyes back on their own five-yard line, which eventually led to an Iowa punt. Iowa State responded with a Shontrelle Johnson fumble, but Marcus Coker coughed one up shortly after that to even things out. That's when Iowa State scored its first touchdown of the game, as Jantz hit Reynolds  on an 11-yard pass with 7:40 to play in the half.
My point is that Van Der Kamp's punt reversed the field, which was a huge factor in that second quarter momentum swing.
Through two weeks, Iowa State's punt team is ranked sixth nationally in net punting with an average of 45.57 yards per kick.
Josh Lenz – As I mentioned above in the Van Der Kamp blurb, field position was key on Saturday.
I'm not sure that Iowa State would have won the game without the play of Josh Lenz. Lenz only caught three passes for 19 yards (and a touchdown), but his average of 29.75 yards per kick return (along with a 24 yard punt return) is what was so valuable in the victory. Future Iowa State opponents need to add something to their scouting report. Don't kick to Josh Lenz. He's awfully scary back there.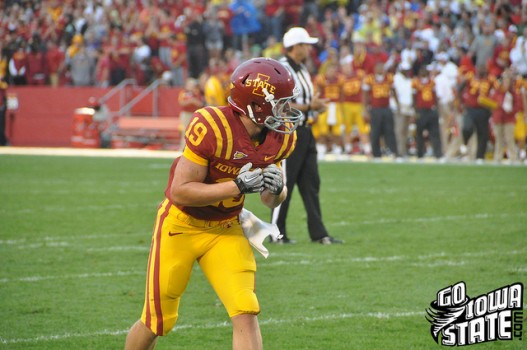 Rony Nelson – Nice to meet you Mr. Nelson. Rony picked up his first career sack on Saturday. It came at a crucial time too. I thought that Nelson was great in passing situations for the Cyclone defense.
Matt Tau'fo'ou – Not only did Tau'fo'ou record eight tackles, but he brought a level of stoutness to the Cyclones against a physical Iowa team.
Jacques Washington – Remember the days when fans were concerned about the free safety position heading into the season? Washington had a key pass break up along with seven tackles in the win. Most importantly though, he's hitting people and he's hitting them hard. Washington ranks second on the team in tackles through two games, with 22.
Jake Knott – Jake Knott reminds me a lot of Chuck Norris. Bum arm or not, he destroys anything and everything in his path. Knott had seven tackles and recovered a fumble in the game, but toughness alone would have earned him a helmet sticker. Knott has 22 tackles to his name on the season.
Leonard Johnson –LOCK DOWN LEONARD. That's kind of catchy. Can we make it stick?
In addition to that, Johnson was the guy who forced the Marcus Coker fumble in the second quarter that changed the momentum for the rest of the game.
THREE UP
Conversions – With resilient being our key word of the day, check this stat out. The Cyclones were 13-of-20 on third down conversions against the Hawks. The Cyclones were 2-for-2 on fourth down as well. It gets better. Iowa State is 5-for-5 on fourth down conversions this season. That stat is just stupid.
Coaching – This team plays like its coach coaches.
"You don't turn the ball over three times to one, twice inside your 10, miss two field goals against a football program like Iowa and win too many times," said Rhoads. "Unless you have the resolve of the young men I coach."
Those young men get that from above.
From top to bottom, Iowa State's football program screams blue collar. They get that from Rhoads and his staff.
Another big "UP" has to be handed out to first-year wide receivers coach and special teams coordinator Courtney Messingham. Iowa State fans haven't seen wide receiver play like they did yesterday since the day Todd Blythe left town. Add to that the fact that the Cyclones kick return has been a major strength so far and Messingham deserves some serious love for the work that he's done.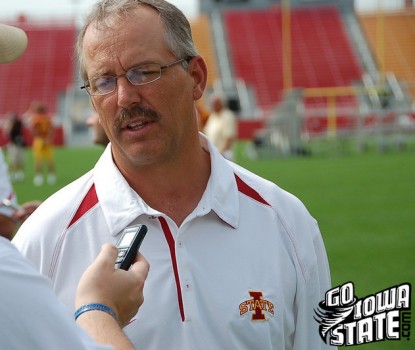 Offensive line – I think that we learned exactly how valuable Osemele and Hayworth Hicks are on Saturday. If you're playing an FCS team or not, when you take your two best linemen out of the lineup, you're going to struggle. Iowa State's rotation of Osemele and Carter Bykowski worked. Hicks was outstanding. Tom Farniok and Ethan Tuftee showed remarkable improvement and Brayden Burris (who graded out the highest of all Iowa State linemen in week one) was solid. This line can be exactly what we thought it was going to be. Very, very good. Getting Osemele healthy will be key after Friday's date with UConn, as the Cyclones will have a much-needed bye week.
Honorable Mention: The Big 12
"WE ARE ONE." Well – Not really. But the Big 12 is 14-1 through the first two weeks of college football. Not bad. Not bad at all.
THREE DOWN
Turnovers – Take away Iowa State's two first half turnovers inside of the redzone and the Cyclones probably wouldn't have needed overtime. Overall, Iowa State turned the ball over three times in the game compared to Iowa's one. In fact after two weeks, the Cyclones are ranked 114th nationally in turnover margin. How is this team 2-0 again?
Penalties – There were some ugly ones. Iowa State committed 11 penalties for 84 yards, compared to Iowa's six for 35.
Kicking – True story here. When yesterday's game hit overtime, I was more concerned about Iowa State making PAT's than I was actually getting into the endzone. I'm not making that up. Ask Ian Smith, who was sitting right next to me.
Grant Mahoney showed some guts by nailing a 54-yard field goal in the second quarter. Mahoney then missed from 42-yards in the third. Zach Guyer had an opportunity to shine, but missed from 38 yards in the fourth.
Iowa State still doesn't have a kicker.
Paging Cole Nettens. Paging Cole Nettens.
When you lump all three of these items together, it makes the win that much more unthinkable.