By Chris Williams, CycloneFanatic.com Publisher
Follow Chris on Twitter @ChrisMWilliams
Happy Monday my fellow Cyclone Fanatics. How goes it? I apologize for posting this so late today. We've been working though some issues on the back end of the website and I am finally able to post again.
I've got a lot on my mind today regarding Iowa State spring football, Big 12 basketball and I'm really starting to question some things about my development as a human being. Yes, you read that correctly.
You want more? Here are my Monday musings.
SPRING FOOTBALL THOUGHTS/NOTES
CLICK HERE to check out a report from Iowa State's first spring scrimmage of 2011 at www.Cyclones.com. You'll also find video interviews with Paul Rhoads, Tom Herman and Wally Burnham at that link.
If you don't have time to read/watch that link (or you don't want to leave CycloneFanatic.com), here is what I took from the report.
–       On Saturday, the defense won. That's what all of the coaches said and some folks who I've spoken to who were at the scrimmage agreed. This really shouldn't come as a surprise to anybody. The defense should be winning right now. However, Rhoads mentioned that the offense had the upper hand on Friday. Take all of that for what it is worth. How important is a scrimmage in early April for a football team? I guess the only thing that fans should care about is if progress is being made.
–       Rhoads mentioned that there were some quarterback/center snap issues during Saturday's scrimmage. My own sources tell me that the issue wasn't really an issue with Iowa State's first string, so that's encouraging.
–       Burnham mentioned that the safety position is "still a work in progress." Again, no need to hit the panic button on this one fanatics. It is April 4. Deep breaths….
–       As for the hot topic of the quarterback competition, I'm hearing that one guy really hasn't done anything big to grab control of this race yet. I don't believe that anyone will either. I'll be shocked if Rhoads writes a first string quarterback in pen on a depth chart at the end of the spring. My guess is that he'll take this competition into fall camp. At the most, Rhoads be writing with a soft-tip mechanical pencil.
–       In addition to Austen Arnaud, another source is telling me that redshirt freshman Jared Barnett (below) has been "extremely impressive" this spring. With two juniors and a sophomore ahead of him, I have a hard time imagining any sort of scenario where Barnett would start next fall. But who knows? If he is the best guy for the job, I am all for it.
–       I come today with big news regarding April 16's spring game. I got the deal done late last week that Tron Smith and I will host a two-hour long pregame show on 1460 KXNO and KXNO.com from the hours of 11-1. We'll be broadcasting from the Gridiron Club's big tailgate event. I'm not positive where that will be quite yet but I'll fill you in when I get more information. Feel free to stop by. If you can't make the game, at least you'll be able to tune into the program for some in-depth Cyclone talk for two hours. Austen Arnaud will join us along with many other Cyclone personalities who I plan on booking here in the next week or so.
–       I had a nice chat with Duran "Duck" Hollis last Thursday. That was the first time that I've ever talked to "Duck" and I must say, I came away very impressed. He's a very polite and well-spoken young man who I can't wait to see play in the spring game. Last year, Shontrelle Johnson grabbed the majority of the young running back headlines and there was probably a reason for that. Iowa State running backs coach Ken Pope glows when talking about "the rabbit." But still, I remember hearing rumblings last August that Hollis was making a push to play as a true freshman. Ultimately the staff decided to redshirt him but my point is that he was close. Assuming that the roster stays in tact, running back looks to be a major strength within this program for years to come.
BIG 12 BASKETBALL STUFF
–       Frank Haith to Missouri? Really? Really? Missouri went from possibly snagging one of college basketball's most prized young coaches in Purdue's Matt Painter to a guy who has coached at Miami for seven years, while only making one NCAA Tournament (Haith compiled a 129-101 record over that time span). Here's a little more information on Frank Haith.  He's 45-years old and was born in Queens, New York. His only Big 12 ties come from assistant coaching spurts at Texas A&M (1996-97) and Texas (2001-04).
–       The Tiger administration didn't even wait to make a run at Shaka Smart or Brad Stevens. Maybe they did talk to Smart though. Did he turn a Big 12 school down? It is pretty much common knowledge that Stevens wouldn't be interested in this gig. I'd think that if he ever leaves Butler, it will be for an elite basketball school. Despite what Tiger fans think, Missouri is not that.
–       Also over the weekend, Oklahoma hired UNLV's Lon Kruger. In my opinion, this was the second best hiring that we've seen throughout college basketball's 2011 silly season. I'd give Arkansas and Mike Anderson the first prize.
–       The biggest loser in this super silly season? M-I-Z-Z-O-U.
–       Now that Haith has exited Miami, Kansas State's Frank Martin is the hot name to replace him at South Beach. As Sam Mellinger from the Kansas City Star wrote, Martin is from Miami. His family lives there and he notoriously recruits the area. He's really the ideal candidate for the job. Martin's talent is beginning to dry up in the 'Little Apple." This makes sense fanatics.
–       Good golly. There is a lot of instability within the Big 12 (I'm talking basketball here). All of the sudden, Iowa State has one of the most solid foundations of any program in the league. Nobody thinks that Fred Hoiberg will go anywhere any time soon. My opinion? Hope that Martin does jet from Kansas State fanatics. Getting that program back to the doormat level that it was before Bob Huggins got to town would be a good thing for Iowa State.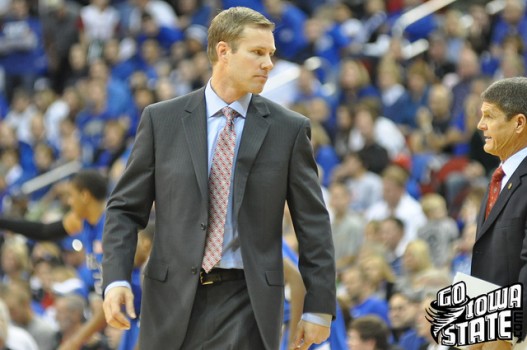 –       I don't buy that Iowa State fans should root for other Big 12 schools to be good. Why? So that they can beat you? So that they can keep making NCAA Tournaments and continue to negatively recruit against you? I hope that Missouri and Kansas State are down. That equals more victories for Iowa State. That's the ultimate goal right?
OTHER STUFF
–       Butler vs. UCONN….Can you really refer to Butler as an underdog in this one? Flip a coin. I'll take the Huskies.
–       I am 26-years old, which is pretty young in my field. What's crazy is that when I went to journalism school (2003-07), things like Twitter didn't even exist. Facebook was just getting its start and websites like this were only beginning to pop up. I read a great story yesterday that highlighted how certain media members covered Missouri's coaching search. Remember last week when Matt Painter WAS the next Tiger head coach? We saw how that worked out. CLICK HERE for an interesting read on how Twitter/the Internet has changed sports journalism. For more on that, Iowa State's Steve Malchow gave his take on the same article in his Monday blog. CLICK HERE for that link.
–        Here's a quick story on how a unnamed source once attempted to use me. I was working for the old CycloneNation.com back when Dan McCarrney left Iowa State. It was during the Chizik coaching search when a "source close to XXX candidate" kept emailing/calling me. This guy had all sorts of "inside information" on what was going on between Iowa State and this certain candidate. Thankfully, I didn't choose to run with any of this. In the end, that candidate ended up getting a head coaching job years later and this "source" ended up being on his staff. My point? More often than not, these "sources" have their own motives. For instance, when you noticed that the same guys get brought up for every open job in America (Tubby Smith comes to mine), generally, there is a reason for that. Notice that Fred Hoiberg's name hasn't popped up anywhere during this silly season. As an unwritten rule, the unhappy guys get people to put their names out in the open.
–       I need your help today fanatics. I think that something might be wrong with me. Last night, I elected to NOT order Wrestlemania 27. By not watching the event, I saved myself $70. I didn't drink any beer (saved some valuable calories) and I had a nice, quiet night with my wife. By making this conscious decision, am I A) maturing as human being or B) becoming old and lame? I'd say B…
–       Instead of watching rasslin', I instead tuned into the country music awards on CBS. Here are a few quick notes. You can read my complete analysis on the event by CLICKING HERE.