By Chris Williams, CycloneFanatic.com Publisher
Iowa State (12-2) vs. Northern Illinois (4-7)
Monday, Jan. 3* 7 p.m. @ Hilton Coliseum
CTN/ESPN3/ESPN Full Court – Cyclone Radio Network
Before I begin this preview, let's all get one thing straight. Tonight is Jake Anderson's game. Anderson, who played at Northern Illinois for three seasons before coming to Ames, is saying all of the right things about his former team.
CLICK HERE to read a piece about Anderson by Bobby La Gesse of the Ames Tribune. If you don't want to click, I'll save you the time. Jake Anderson = a class act. He hasn't fired off one cheap shot towards NIU head coach Ricardo Patton and he won't. There's no need. Anderson is a Cyclone now and his team is off to an impressive 12-2 start.
But this isn't just another game. It can't be. Put yourself in Anderson's shoes. At an hour before tip, would you really have the same feeling that you had prior to playing Dartmouth? I'm guessing no.
This is about the only intriguing storyline leading up to Iowa State's 15th and final non-conference game of the 2010-11 men's basketball season.
Do the 4-7 Huskies from the MAC have a prayer? Let's break it down.
BREAKING DOWN THE CYCLONES
Iowa State's probable starters
G: Diante Garrett, 6-4 Sr. – 16.6 PPG, 6.1 APG
G: Scott Christopherson, 6-3 Jr. – 15.1 PPG, 3.1 RPG
G: Jake Anderson, 6-2 Sr. – 11.1 PPG, 8.5 RPG
F: Melvin Ejim, 6-6 Fr. – 12.9 PPG, 6.9 RPG
F: Jamie Vanderbeken, 10.9 PPG, 5.4 RPG
Virginia was without their best player and they are probably going to finish near the bottom of the ACC this season, but make no mistake about it. Iowa State's 60-47 win over the Cavaliers was as notable as they come. Thursday night's victory marked the first time since 2005-06 that Iowa State has won back-to-back road games. Both of those W's just happened to come against high-major, BCS conference schools.
Fred Hoiberg is doing something right.
There wasn't much that Iowa State didn't do right in Charlottesville. The Cyclones held Virginia to 15 measly first half points and 47 total.
What to watch for tonight?
Here are some quick hitters on what I want to see from Iowa State in its final non-conference game of the season.
–       Jamie Vanderbeken scored a career-high 24 points in the Virginia game. JVB went 9-of-12 from the floor and 5-of-8 from 3-point range. What now? Keep it up big guy! I want to see Vanderbeken drop 20 on Northern Illinois tonight to keep this positive momentum moving forward into conference play. Vanderbeken has done a lot of good things so far this season, but he's also lacked consistency. Keeping the big man out of foul trouble will be essential to this team's success in the Big 12. Last Thursday, JVB took a big step forward. I hope that he avoids taking a step back tonight. He'll see a favorable matchup too as NIU lacks frontcourt height. The Huskies are thick down low, but they lack athleticism.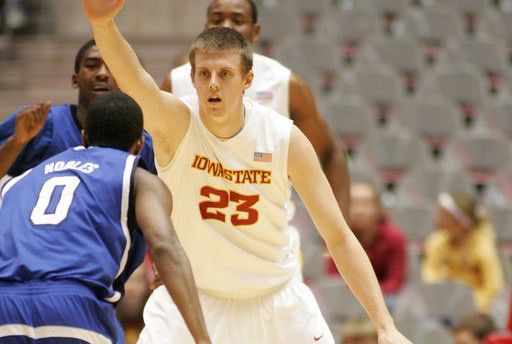 –       Just take care of business Cyclones. Put NIU away early and start focusing on Nebraska and the rest of the Big 12. The last thing that this program needs is to play a close game with a bad team after an outstanding 12-2 start. If you go to Hilton tonight, you'll see a very confident Iowa State roster at tip-time. A sizeable win will ensure that to still be the case on Saturday night in Lincoln as well.
KenPom.com's latest on ISU
After the Virginia win, KenPom.com's latest projections for Iowa State's season have improved immensely. The site now has Iowa State going 20-11 overall, with a 7-9 record in the Big 12 (including upset wins over Baylor and Kansas State in Ames).
KenPom.com predicts an 89-63 win tonight vs. Northern Illinois.
CLICK HERE to view the numbers for yourself.
BREAKING DOWN THE HUSKIES
Northern Illinois' probable starters
G: Jeremy Landers, 6-2 Sr. – 7.3 PPG, 2.5 RPG
G: Xavier Silas, 6-5 Sr. – 24.5 PPG, 4.3 RPG
G: Bryan Hall, 6-1 Jr. – 5.5 PPG, 3.2 RPG
F: Nate Rucker, 6-6 Fr. – 6.9 PPG, 4.5 RPG
F: Tim Toler, 7.5 PPG, 3.9 RPG
Northern Illinois' senior guard Xavier Silas is a Big 12 caliber player who will definitely test Iowa State's backcourt. Silas, a former Colorado Buffalo (he scored 19 points against Iowa State as a freshman in 2007) is averaging 24.5 points per game this season with 4.3 rebounds. The problem is that he hasn't gotten any help. Northern Illinois' next highest scorer is junior forward Tim Toler, who is averaging 7.5 points per contest.
So the game plan to defeat the Huskies is pretty simple. Just keep Silas in check. If you do that, there really isn't anybody else on this roster capable of beating you.
All season long, we've seen Fred Hoiberg assign senior Jake Anderson to the opposition's best player. Something tells me that is going to happen tonight when you consider that Anderson and Silas were backcourt mates just a season ago.
I like the edge that Iowa State will likely have in the frontcourt tonight. Melvin Ejim should outplay NIU freshman power forward Nate Rucker, despite Rucker's 30-pound size advantage. That too is the case with the JVB-Tim Toler matchup. Toler weighs 270-pounds to JVB's 240.
NIU's big issue is that as always, the Cyclones will look to run tonight. I have a hard time believing that the heavy Huskies down low will be able to keep up.
Northern Illinois' four wins have come over Cardinal Stritch, Maryland Eastern Shore, Illinois Chicago and Utah Valley. Their seven losses were to Northwestern, Bradley, Boise State, DePaul, Temple, Southern Illinois and Missouri.
Join Cyclone Fanatic's Facebook page!
NOTEBOOK
–       A familiar face to Cyclone fans coaches Northern Illinois. That's former Colorado coach Ricardo Patton, who led the Buffs for 12 seasons, while going 1-11 at Hilton Coliseum during that time.
–       Jake Anderson scored 1,152 points during his three-year career at NIU. Anderson was the 2008 MAC Freshman of the Year and a second-team all-MAC pick last season.
–       To the naked eye, Diante Garrett didn't play great in Thursday night's win over Virginia. At the end of the night, the box scored told a different story. As Fred Hoiberg likes to put it, Garrett "filled up the box score" by scoring nine points, with eight assists and eight rebounds in the victory. Garrett currently leads the Big 12 in assists at 6.1 per game, a number that ranks him 17th nationally. Garrett is now one of only three players in school history to score 1,000 points and dish out 500 assists in his career.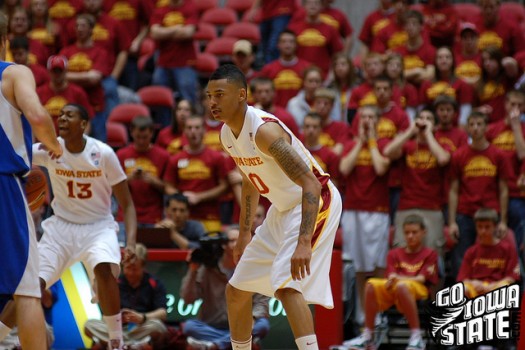 –       Iowa State and Northern Illinois have played four times in history, with the series being split at two. Both teams won the games that were played on its home court. The last time that these two schools tangled up was in 1971, as the Huskies got the best of Iowa State in double overtime in DeKalb.
PREDICTION
Every way that you break it down, this is a good matchup for Iowa State. The Cyclones will go head-to-head with a Big 12 caliber guard in Silas (which is a great test leading up to the rest of the season) but after that, barring an awful shooting night, Iowa State should win this one comfortably. NIU lacks the athleticism to keep up with the Cyclones at home. I don't think that Jake Anderson completely shut Xavier Silas down, but he'll he'll slow him for sure. I'm banking on big games from Melvin Ejim (in transition) and Jamie Vanderbeken for Iowa State, in a 20-point win.
For score updates during every Iowa State men's and women's basketball game this season, follow @CycloneFanatic on Twitter today!
THE PICK
Iowa State 79, Northern Illinois 59