By Chris Williams, CycloneFanatic.com Publisher
We all knew that this would be tough football game for Iowa State.
Nobody saw this coming.
Without Dan Hawkins, Colorado thoroughly dominated Iowa State on Saturday afternoon by a 34-14 final.
Without Austen Arnaud, the Cyclones will now have to beat Missouri next Saturday to go to a bowl game for the second straight season. Below are my thoughts on Saturday's game.
GAME BALL
Jake Knott – He just keeps getting better. Iowa State's stud sophomore linebacker recorded 16 tackles, forced a fumble and had three pass breakups in Iowa State's loss to the Buffaloes. At certain points in the game, it seemed like Knott was the only Cyclone who wasn't experiencing some sort of a NyQuil hangover. Knott leads Iowa State with 119 tackles through 11 games and he is well on his well towards winning some post-season Big 12 awards.
HELMET STICKERS
Collin Franklin – There aren't a lot of these to give out from this game. Senior tight end Collin Franklin definitely deserves one though. Franklin caught 11 passes for 118 yards and a touchdown for an Iowa State offense that struggled to move the football on Saturday. Those numbers push Franklin's season totals to 51 receptions for 502 yards and three touchdowns.
Jerome Tiller – When Austen Arnaud went down with what we believe is a season ending knee injury in the fourth quarter, I thought that sophomore quarterback Jerome Tiller played the best football that we've ever seen out of him in a Cyclone uniform. Tiller went 12-of-19 for 99 yards and a touchdown in a game that was not friendly to Iowa State quarterbacks. Tiller's time has come. His junior season will begin next Saturday against the Missouri Tigers. If Tiller can somehow lead Iowa State to a victory next week, he'll put himself in a strong position to be the starting quarterback in 2011 and beyond. If he goes out and doesn't perform, you might as well flip a coin. Tiller's opportunity to lead this football team has come. What will he make of it?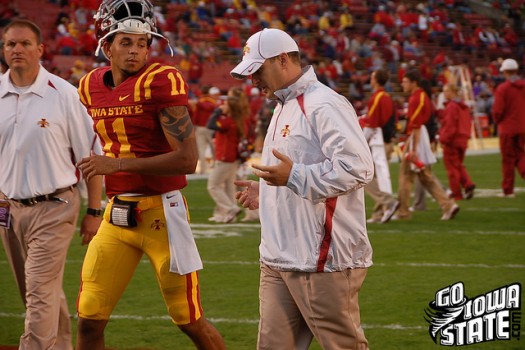 Matt Tau'fo'ou – I've got to give some props to Matt Tau'fo'ou for his seven tackle effort on Saturday. Tau'fo'ou broke his leg in the Iowa game and it is good to see him back out there producing for the Cyclones.
THREE UP
One More Shot – Before the season, Phil Steele and Athlon had Iowa State finishing last in the Big 12 North. One publication went as far to project a 3-9 overall record for the Cyclones. Things seem terrible right now, but Iowa State's goal at the beginning of the season was to go to and win a bowl game. That goal is still in tact. Jack Trice Stadium has been very good to Iowa State so far this season. Meanwhile, Missouri has lost their last two road games.
Austen Arnaud – This is a tough paragraph for me to write. Austen Arnaud is one of my favorite athletes who I have ever covered. I am confident that the majority of the local media would agree with that statement. He is the perfect example of what it means to be a Cyclone. He comes from an Iowa State family. From the time he committed to Iowa State back in high school (Ames), I labeled Arnaud as Ames' "golden boy" in the former Cyclone Nation magazine. I truly believe that if Arnaud would have had offers from Ohio State, Alabama or any other big name program in America, it wouldn't have mattered. He was born to be a Cyclone. After suffering a left knee injury in the fourth quarter of Saturday's game, Arnaud's career likely came to an end. You might be wondering why this is in my "three up" segment from the game. It's here because sometimes, things go way beyond football. Austen Arnaud is one of only three Iowa State quarterbacks to win a bowl game in program history but that's not what I'll remember about him. It is his class, integrity and overall charisma that I'll miss while conducting interviews on Monday mornings. Austen Arnaud will go a long way in his life and it won't have anything to do with what he did on the field. While it flat out sucks that he'll have to watch his final game (or two) from the sidelines, Iowa State is a better program for having Austen around for the last five years. Cheers to that.
Cody Hawkins – It is time to give credit where it is due. Cody Hawkins played a hell of a football game for Colorado. It helped that Iowa State's defensive line from week four reappeared but still, Hawkins threw for 266 yards and three touchdowns after his father got fired earlier in the week. Emotionally, it couldn't have been an easy week for this guy. Here's another emotional "up" and unfortunately, this one didn't work out well for Iowa State.
THREE DOWN
Offensive line, running game – In my "final look" blog that I posted on Friday, I wrote that establishing the run early was Iowa State's number one key to victory. The Cyclones netted -6 yards on Saturday. Alexander Robinson only ran for 22 yards in this contest. Eight sacks later and here we are with that nasty -6 stat. To say that Colorado's defense punished Iowa State's offensive line would be a massive understatement. The Buffs absolutely dominated the line of scrimmage.
Defensive line regression – Just when we thought that Iowa State's defensive line finally had it figured out, they went out and had a game like this. During his halftime interview for Fox College Sports, Paul Rhoads joked that Cody Hawkins had time to eat a bag of popcorn in Colorado's backfield. Rhoads was right. In fact, I'm of the belief that Hawkins could have loaded that bag with butter and that cheese salt as well. The Cyclones didn't record one quarterback hurry in the loss. Maybe that is why Hawkins looked like the second coming of John Elway.
Energy – After Colorado's 90-yard kick return in the second quarter, it didn't seem like Iowa State ever had it. This surprised me too. I really thought that Iowa State would make some sort of a run in the second half. The first half reminded me of the Kansas game. Unfortunately, the Cyclones didn't wake up after the break like they did two weeks ago.
FINAL THOUGHTS
I've done enough analyzing for one night. I want to make a plea to you Cyclone fans out there.
Next week is a huge football game for the future of this program. Let's all treat it like one. The only thing that stands between Iowa State and their second bowl game in two years is a Missouri team that has been very vulnerable over the last month.
In the past, attendance has been an issue in late November games for Iowa State. We all keep chatting about the football culture is changing in Ames. It is time for the fans to prove it next Saturday.
To wrap things up, for some reason, I am cautiously confident about next week's game. Missouri is a program that has struggled on the road this season. Add to that when Paul Rhoads' team have been all but left for dead in the past, they've seemed to shock us (Nebraska in 2009, Texas this year).
Iowa State might have physically lost their quarterback and team leader on Saturday, but this team didn't lose its resiliency. The Cyclones might not win next week, but I have faith that they'll give the Tigers a hell of a game on Senior Night.