By Chris Williams, CycloneFanatic.com Publisher

Get your tailgate equipment ready Fanatics. The 2010 spring game is tomorrow.
I don't know about all of you out there, but this Cyclone is ready to watch some hitting. I have a serious case of football fever. It is awful. It is so bad that yesterday, I put together a list of 40-plus football related stories that I plan on writing over the summer months.
Tomorrow's spring game will be a nice little appetizer for the 2010 campaign.
Here are my thoughts on some of the top offensive storylines to keep an eye on tomorrow. My defensive notes will be posted later on today.
Top offensive storyline
According to you Cyclone Fanatics who voted on our recent front page poll question, the competition at wide receiver is the top offensive story on your minds heading into tomorrow.
Well played Fanatics. I couldn't agree more. I love the competition that has taken place in Ames over the past few weeks at this position. It features a handful of athletes who offer a great mix of skills to the football team.
Here's a rundown of what receivers I'll be watching tomorrow and why.
Sedrick Johnson – This guy was bad last year for Iowa State. His seven receptions for 36 yards statistic was maybe the worst on Iowa State's entire roster. The coaches say that Sedrick has recovered from his nasty high ankle sprain and has looked like the man again this spring. I'm buying it too. At 6-foot-3, 211-pounds, all you have to do is stand next to the guy to know that he's got some serious potential. I just want to see it with my own two eyes. A flashy spring game performance for Sedrick would go a long way in my mind.
Darius Reynolds (below)– The man they call "Money" is back! Now that he's healthy, will Reynolds be that elusive big play threat that this offense lacked a season ago?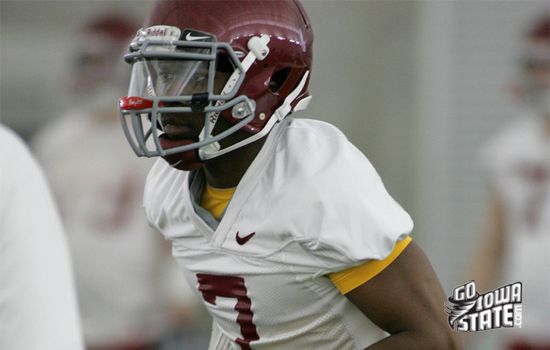 Jake Williams – Mr. Consistent…That's the reputation that former West Des Moines Valley standout Jake Williams has in the Iowa State locker room. Williams took advantage of his teammates being injured last year and caught 36 passes for 403 yards and five touchdowns.
Keith Blanton – I've officially become a "Keith Blanton guy" this spring. It seems like every person I talk to is telling me about this kid's game. Blanton, a 5-foot-11, 199-pound red-shirt freshman could use Saturday as his official coming out party in the world of Cyclone football.
Darius Darks – Like Sedrick Johnson, a nagging injury plagued Darks in 2009. He's back on top of the depth chart and is looking to mimic the 49 catches he recorded in 2008. Darks came on strong towards the end of last year when he started to become healthy. I'm confident that he'll have a solid junior season.
Those are the guys who I'll specifically be keeping a close eye on tomorrow. Josh Lenz has been injured for the majority of the spring. Donnie Jennert is a red-shirt freshman that could make some noise. Regardless of who exits the spring on top of the depth chart, the wide receiver position will be an intriguing one to follow as we approach Sept. 2.
Runner up – The running backs
There's Alexander Robinson and then there's everybody else.
That's been the story of Iowa State's group of running backs so far this spring. It's not like that's a surprise. We all expected this.
Still, there is a battle among the Cyclone running backs that has been fun to watch develop.
According to the latest depth chart that was released on Monday, there is currently a three-way tie for the number two position behind Robinson.
The candidates are Beau Blankenship, James White (below) and Jeff Woody.
All three of these guys do different things well.
White is fast and shifty.
Woody is strong and physical.
Blankenship is the jack-of-all-trades, who has the most experience among the three.